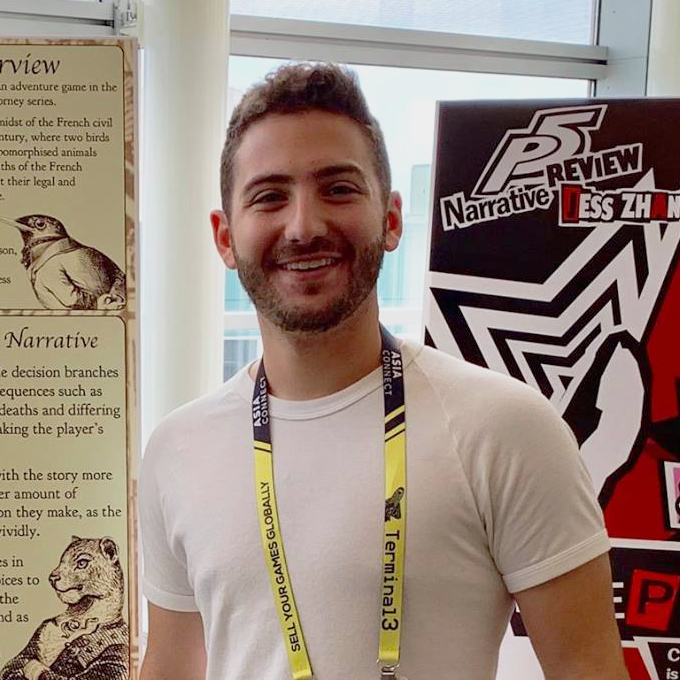 I'm Jonathan Moallem, a software engineer and games developer who loves to create unique, interactive experiences.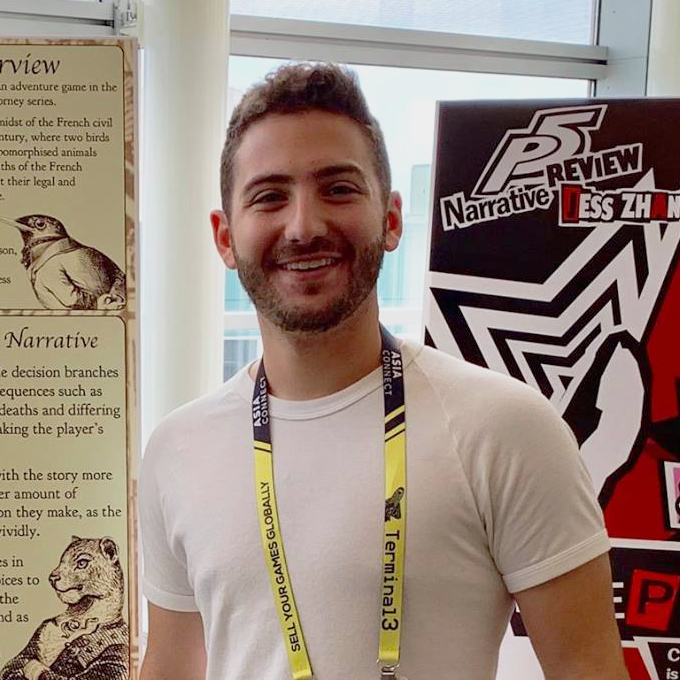 About Me
| | |
| --- | --- |
| | Based in Brisbane, Australia, I am currently working as a gameplay programmer at Gameloft Brisbane, working with Unreal Engine in C++, Blueprint, and Python, to release one of Apple Arcade's flagship titles, My Little Pony: Mane Merge, winner of the 2023 Australian Game Developer Awards' "mobile games" category. |
| | Since 2020, I have also been working in my spare time to co-found and lead an independent, open-source, game development team, Caps Collective, publishing our debut title on Steam: Fantasy Town Regional Manager. The game was listed as one of Kotaku's top 10 Australian games of 2021, and a finalist in the 2022 Australian Game Developer Awards' "emerging games" category. |
| | I have previously worked as a pipeline software engineer at Animal Logic, developing and maintaining animation & VFX software based on Pixar's USD 3D scene description format in C++ and Python. |
| | Before that, I had graduated from the University of Technology Sydney, with a BSc. (Honours) in Information Technology, achieving a high distinction and earning the university medal. I majored in enterprise systems development, and wrote my thesis on emergent narrative, studying game AI techniques and engineering practices, with research published at the IEEE Conference on Games (CoG) 2020. |
If you were to ask me about what gets me out of bed in the morning, I would say it's making cool stuff. At my core, I am a creator, and I love to craft experiences. I've developed a passion for learning in service of creation, so if I'm not working hard on one of my projects, I'm likely at a game jam, learning a new skill, or off hiking somewhere.
For more on my previous experience, please check out my resume or LinkedIn below:
Download Résumé
Email
Mobile
LinkedIn
GitHub
itch.io
Mastodon
Bluesky
Twitter
My Skills
Languages: C++, C#, C, Python, Unreal Blueprint, Lua, GDScript, Ruby
Frameworks: Pixar USD, Qt, Maya API, Android SDK, iOS SDK, Ruby on Rails
Tools: Git, Perforce, Jira, Trello, Blender, GitHub Actions, Photoshop
Misc: Narrative Design, UX&I Design, Music Production, Data Analytics, Video Editing
Other Things I've Done
A Review of Agency Architectures in Interactive Drama Systems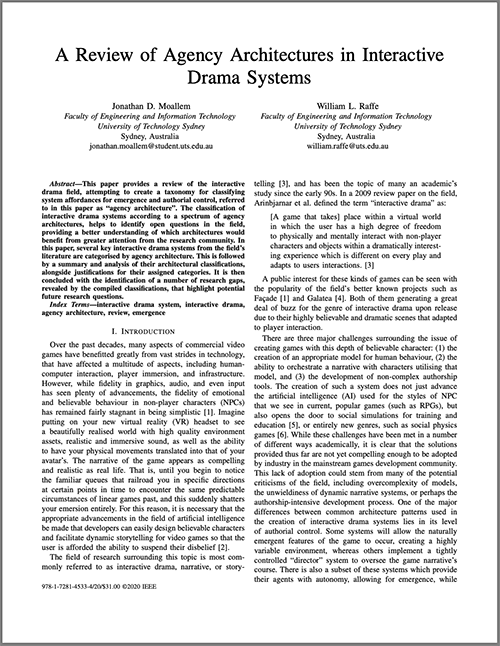 In August of 2020, I had my games design research paper on AI and narrative design titled "A Review of Agency Architectures in Interactive Drama Systems" published in the proceedings of the IEEE Conference on Games (CoG) 2020. The paper is a review of the interactive drama field in video games research, re-framing the field's key literature as existing upon a spectrum based on their use of scripted or emergent properties - theorising and proposing a new style of hybrid, emergent-scripted solution to drama manager design.

During the conference, I delivered a recorded presentation, summarising the paper's content, findings, and providing additional background on the research area of the interactive drama field. The paper was eventually adopted as the base of my honours research into agent-based drama management systems.

View Paper on Conference Site

Get Paper on IEEE Xplore

Watch Presentation on YouTube
Agile Adventures - Game Story Bible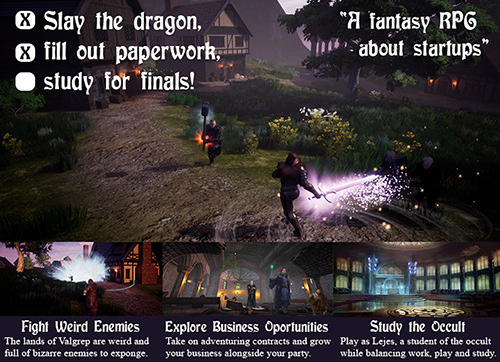 As a part of a university subject in narrative design for games, I created a cross-section of a "game story bible". The document spans a number of different design scopes, from dialogue to item descriptions, NPC barks, quest details, storyboarding, and more. Agile Adventures is my take on a fantasy RPG satire, where adventuring is big business, and every kid wants to make it in big-league adventuring.

View PDF Document
GDC Game Narrative Review & Poster Presentation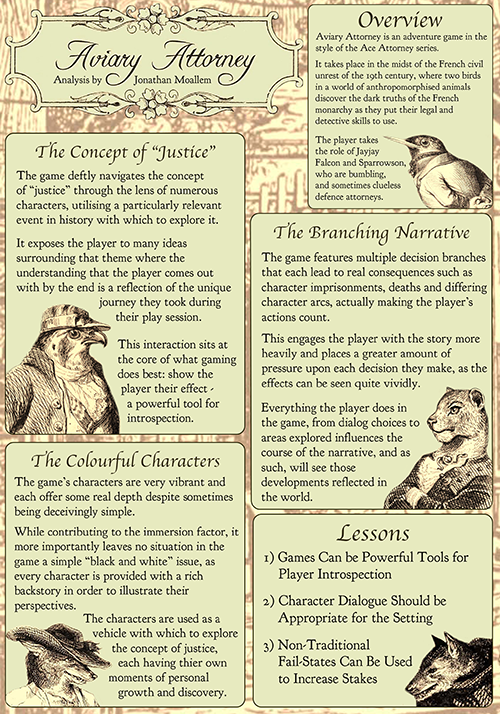 In early 2019 I was invited to attend and present my work at GDC after winning gold for a paper I had written, as selected by a panel of industry veteran narrative designers.

The paper lays out my critiques of the narrative design of the game Aviary Attorney, applauding it for its use of setting to punctuate the themes of the game, as well as its broad-over-deep approach to the branching narrative. While some of the game's dialogue falls a bit flat, especially with regards to tone in certain sections, it is altogether a quality experience that deftly illustrates the powers unique to an interactive genre.

At the conference, I took part in the poster presentation session, where I was able to exhibit a poster that summarises my paper in a visual style to GDC attendees and a select number of professional game narrative designers.

View Document on GDC Vault